I live on the Isle of Wight in a beautiful village called Havenstreet (famous for its steam railway), with my husband Paul and our 2 little boys, Freddie the Fabulous and Kit the Creative. There's also Radish the very small rabbit and his companion Parship. I think I'm pretty happy.

For some time now I have been producing illustrations, both on canvas and on computer, and writing accompanying copy, for a diverse range of clients. These range from greetings cards companies, to department stores, to web sites, to clothing companies, to magazines and newspapers and to individuals wanting personalized paintings and collages to mark special occasions. My rates are reasonable, and I'm very adaptable, so drop me a line.

Before this, but after I left university, I became a photographer on a cruise ship in the Caribbean, and to say this was a blast was an understatement. During this period I photographed lots of iguanas.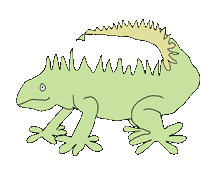 I still do lots of freelance photography, but sadly no underwater photography these days, which I love, and think I might try and be reincarnated as a fish.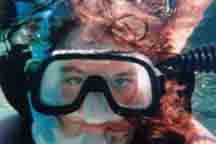 My art education consisted of a foundation course at Falmouth School of Art, and a degree in Fine Art from Brighton University. During these years I had a bit of a thing for dolls, rubber gloves, fish, song lyrics, angels, beds, the American flag and the letters that make up my name. These things managed to preoccupy me for 4 years. I was very sad to discover that my education eventually had to come to an end.

Before that I lived in Cornwall, where I ate a lot of cheese pasties.